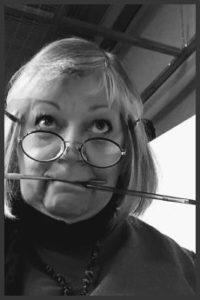 First Friday Art Walk – November 2020
Art has been a major part of Shelly's life since memory began. A self-taught artist, it was never a question of "should I", but "just do". She's worked as a graphic designer, a forensic artist and gallery manager. Her move to Topeka from Bremerton, WA, made it possible to go her own way and Foole's Dream Studio was born in the NOTO Arts & Entertainment District. "My father said I was a fool, but George Carlin said the medieval "e", in foole made me a professional."
Shelly works in a variety of mediums such as oils, colored pencil, acrylic and hand-pulled block prints. Inspired by mythology, the human condition, humor, quantum theory, music and coffee, her style ranges from stylized realism to abstract geometrics.
Shelly is an active board member of the NOTO Arts and Entertainment district, has been a recipient of ArtsConnect Fine Art Award, participant in the Topeka Zoo's Roar and Pour fundraising art auction and creator of Chaotic Hopscotch, the "ground" mural in the Teeter courtyard at the NOTO art center. She also teaches a variety of techniques for beginners.
Holiday Open House

Get in the holiday spirit and register to win a 5 Five Buck Friday coupon and a 9" Christmas snowman ($50 value) from our friends at Porterfield's.
Our History

---

NexLynx Gallery of Arts started in 2010, after being selected as one of the venues for the ReThink Topeka Exhibition and Art Walk that same year and each year after. The Re-Think Topeka Art Walk was a movement to spur re-building community awareness through art and cultural events. NexLynx continues to be a proud supporter of the art community with our monthly exhibits and opening receptions. We worked with the former Arts Council of Topeka, and now ArtsConnect to promote art in the community as a premier downtown gallery on the Downtown Topeka Art Walk.

The Gallery is located on the 2nd floor of the historic downtown Bates Building. Walter L. Bates' (1859-1903) last business enterprise was the building of the structures on the corner of Sixth Avenue and Jackson Streets, known as the Bates Block, which includes the I.O.O.F. Hall (117 W. 6th - c. 1910) and 123 W. 6th (c. 1902).

---

NexLynx Gallery was voted a Finalist for both 2016 and 2017 People's Choice Awards, nominated by people in the Topeka Community as their favorite stop on the First Friday Art Walk, a program of ArtsConnect.