NexLynx Gallery – 2017 People's Choice Winner
Thank you to everyone who nominated NexLynx Gallery as your favorite First Friday Art Walk venue in the ArtsConnect People's Choice Awards! We are honored to be the 2017 Winner. We couldn't have done this without your continuous support.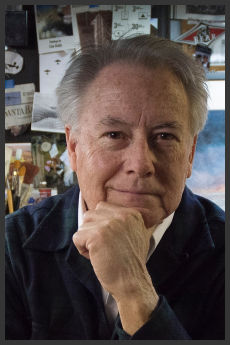 First Friday Art Walk – September 2018
Discover Art Downtown at NexLynx Gallery of Arts, Friday September 7th from 5pm to 8pm, to view the painting exhibit, "Variations V" of returning artist, Edward Balda, during our First Friday Art Walk.
Edward Balda is an accomplished artist known for his creativity, distinctive style and thought-provoking subject matter. Born in Lawrence, Edward was always fond of drawing and became increasingly interested in art after being introduced to painting in high school. Adept in multiple media including printmaking, jewelry making and graphic design, his current portfolio focuses on oil and acrylic paintings.
Edward's work is described as "calculated and graceful, but unpretentious." Influenced by J.M.W Turner, the great British painter of the late 1700's, Edward's work is reminiscent of Turner's landscapes of fog and haze. He works in thin layers, building up a luminous depth of color with his subject matter often reflecting his Ecuadorian heritage and points of travel.
Edward received a Bachelor of Fine Arts with a secondary degree in Art Education from Ottawa University. Since 1970, Edward has taught advanced art courses at a local middle school, several high schools and art education and computer graphics courses at Washburn University. He currently teaches art and ceramics at Hayden High School.
As always, we will have snacks, soda, craft beer and wine.
Our History

---

NexLynx Gallery of Arts started in 2010, after being selected as one of the venues for the ReThink Topeka Exhibition and Art Walk that same year and each year after. The Re-Think Topeka Art Walk was a movement to spur re-building community awareness through art and cultural events. NexLynx continues to be a proud supporter of the art community with our monthly exhibits and opening receptions. We worked with the former Arts Council of Topeka, and now ArtsConnect to promote art in the community as a premier downtown gallery on the Downtown Topeka Art Walk.

The Gallery is located on the 2nd floor of the historic downtown Bates Building. Walter L. Bates' (1859-1903) last business enterprise was the building of the structures on the corner of Sixth Avenue and Jackson Streets, known as the Bates Block, which includes the I.O.O.F. Hall (117 W. 6th - c. 1910) and 123 W. 6th (c. 1902).

---

NexLynx Gallery was voted a Finalist for both 2016 and 2017 People's Choice Awards, nominated by people in the Topeka Community as their favorite stop on the First Friday Art Walk, a program of ArtsConnect.