We're asking for your VOTE
Please nominate NexLynx Gallery for ArtsConnect People's Choice Award as your favorite First Friday Art Walk stop. Take a moment and vote for NexLynx Gallery. Online voting ends Friday, October 5, 2018.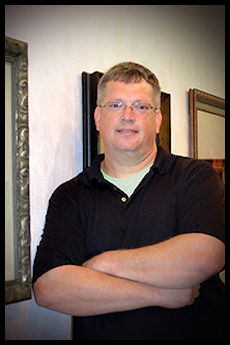 First Friday Art Walk – October 2018
Discover Art Downtown at NexLynx Gallery of Arts, Friday October 5th from 5pm to 8pm, to view the unique exhibit, "Oxland" from returning artist, Rodney Hoover, during our First Friday Art Walk.
Growing up in the Manhattan, Kansas area, Rodney Hoover's inspiration comes from his childhood memories, leaving the big city to enjoy summers spent on his grandparent's farm. It's not straight photography, which in itself is an art, but digital fine art composites. His composites begin with photo sessions on location, hours in the studio creating the composition using multiples of his original photos, digital manipulation of the images, enhancements of color, texture, hues, saturation, brush strokes, blending modes and more.
The project "Oxland" all started with a fluke while scanning historical family photos. Rodney came across a photo of his grandfather and his siblings and thought it would be fun to turn it into a new composite. Combining the love of family history and cattle, Rodney decided to swap out their heads with the thousands of bovine images he has taken. He became instantly hooked, and has since created a whole back story for these new characters. To learn more of the story of Oxland and the Birth of the Bovinians, visit http://oxland.weebly.com/.
As always, we will have snacks, soda, craft beer and wine.
Our History

---

NexLynx Gallery of Arts started in 2010, after being selected as one of the venues for the ReThink Topeka Exhibition and Art Walk that same year and each year after. The Re-Think Topeka Art Walk was a movement to spur re-building community awareness through art and cultural events. NexLynx continues to be a proud supporter of the art community with our monthly exhibits and opening receptions. We worked with the former Arts Council of Topeka, and now ArtsConnect to promote art in the community as a premier downtown gallery on the Downtown Topeka Art Walk.

The Gallery is located on the 2nd floor of the historic downtown Bates Building. Walter L. Bates' (1859-1903) last business enterprise was the building of the structures on the corner of Sixth Avenue and Jackson Streets, known as the Bates Block, which includes the I.O.O.F. Hall (117 W. 6th - c. 1910) and 123 W. 6th (c. 1902).

---

NexLynx Gallery was voted a Finalist for both 2016 and 2017 People's Choice Awards, nominated by people in the Topeka Community as their favorite stop on the First Friday Art Walk, a program of ArtsConnect.