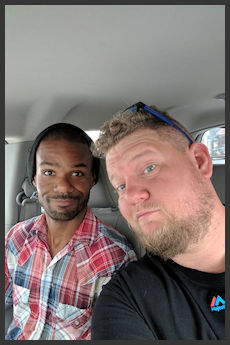 First Friday Art Walk – November 2018
Discover Art Downtown at NexLynx Gallery of Arts, Friday November 2nd from 5pm to 8pm, to view the works of Jordan E. Brooks and Nathan Biester of Pandamonium Arts during our First Friday Art Walk.
Jordan E. Brooks, is a painter, illustrator, and Creative Consultant, influenced by a wide variety of work ranging from the classical to comic book greats from the 90's.
Since 2011, Jordan has received local, national and international achievements, publications and exhibited in not only local galleries, but in Las Vegas and New York. He was the featured artist in the 2015 annual Aaron Douglas Art Fair and was among artists to contribute to ARTSConnect's Brown vs. Board Mural project. For more detailed information about Jordan, visit jordanebrooks-com.webs.com.
Nathan Biester, is a mixed media, abstract and illustration artist from Topeka, who has shown from local coffee shops to international competitions.
He has been published through SevenEightFive Magazine as a featured artist, as well as a now twice returning artist to the Kansas City Chalk and Walk Festival, and a featured artist at Topeka's Two Block Chalk Walk.
Painting started for Nathan as a way to cope with the loss of his mother, finding a way to deal with his sadness by filling the canvas with vibrant colors and exciting characters. After the sale of his first painting, he was pushed to continue creating art, but this time not from sadness, rather to honor his mother. By watching tutorials on brush strokes, led him to learn other styles of art, and eventually that is where he found his love of abstract painting through mixed media.
As always, we will have snacks, soda, craft beer and wine.
Our History

---

NexLynx Gallery of Arts started in 2010, after being selected as one of the venues for the ReThink Topeka Exhibition and Art Walk that same year and each year after. The Re-Think Topeka Art Walk was a movement to spur re-building community awareness through art and cultural events. NexLynx continues to be a proud supporter of the art community with our monthly exhibits and opening receptions. We worked with the former Arts Council of Topeka, and now ArtsConnect to promote art in the community as a premier downtown gallery on the Downtown Topeka Art Walk.

The Gallery is located on the 2nd floor of the historic downtown Bates Building. Walter L. Bates' (1859-1903) last business enterprise was the building of the structures on the corner of Sixth Avenue and Jackson Streets, known as the Bates Block, which includes the I.O.O.F. Hall (117 W. 6th - c. 1910) and 123 W. 6th (c. 1902).

---

NexLynx Gallery was voted a Finalist for both 2016 and 2017 People's Choice Awards, nominated by people in the Topeka Community as their favorite stop on the First Friday Art Walk, a program of ArtsConnect.