Wear blue & help spread awareness for Autism
Purchase a raffle ticket for $1 each or $5 for 7, for a chance to win a Downtown goodie basket valued at $260 while raising money for Topeka Area Autism Network.
Basket content
Gift Certificates from: Cashmere – $10, Moburts – $20, HHB BBQ – $10, Leaping Llamas – $35, Lupita's Restaurant – $20, Hazel Hill Chocolate – $10 and Blue Dipped Peeps, Absolute Designs by Brenda – Gift Card plus floral napkins, 712 Innovations – Cork drink coaster, Ginny's Gift Shop – Wizard of Oz stuffed Bear, BohoMojo – Fair Trade Scarf & Soapstone Lion, NexLynx Art Gallery – Leather Bound Tool Kit, A New Image Hair Salon – HEMPZ Bobywash, Fabtastic Furniture – 'HOME' blocks
View the basket at Ginny's Gift Shop, 929 S. Kansas Ave.
First Friday Art Walk – March 3rd from 5pm to 8pm Brush up on your Topeka Zoo facts for a chance to win general admission tickets to the Zoo or […]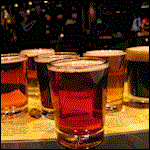 Sample selected beers from Topeka's very own three microbreweries; Blind Tiger Brewery, Happy Bassett Brewing Company and Norsemen Brewing Company. Participants will be entered to win prizes provided by these local breweries.