Five Artists & Five Animals Collaborative Paintings
March 3, 2017

-

March 31, 2017
Event Navigation
First Friday Art Walk – March 2017
Discover Art Downtown at NexLynx Gallery of Arts, Friday March 3rd from 5pm to 8pm to view the first ever collaborative paired paintings from five Topeka Zoo animals and five local Topeka artists creating one-of-a-kind masterpieces during our First Friday Art Walk.
NexLynx Gallery is the "must see" art gallery on the First Friday Art Walk located in the historic Bates Building in the heart of Downtown Topeka. Beginning in 2010, we have shown hundreds of original photographs, paintings, carvings and sculptures from dozens of local and regional artists.
We invited 5 artists who have been big supporters of our gallery over the years, a strong presence in the arts community and use of various art mediums, styles and their artistic talents. The selected artists are Staci Dawn, co-owner of Haven Arts in NOTO & Aaron Douglas Art Fair Chair; Bob Hayes, acrylic abstract painter & photographer; Alexander Lancaster, owner of Two Wolves Studio & community arts advocate; Jessie Logan, impressionist style painter; and Nicole Maddox, acrylic painter & photographer.
Each artist selected their Topeka Zoo animal collaborator. Staci Dawn selected Tembo the African Elephant, Bob Hayes selected the Madagascar Hissing Cockroaches, Alexander Lancaster selected Tiffany the Gorilla, Jessie Logan selected Patrick the Red-Tailed Boa and Nicole Maddox paired with Rojo the Sumatran Tiger.
Each artist prepared their canvas with non-toxic paint using the colors of their choice before the animal added their own creative side. The artists were present to give slight direction during the animal painting portion of the project. After the animal was finished adding their creativeness, the artists were allowed to complete the painting with any embellishments to create a one-of-a-kind masterpiece.
Our gallery will be filled with other Zoo Animal paintings with special "guest critters" from the Zoo for your enjoyment. The collaborative paintings will be auctioned live during the Friends of the Topeka Zoo's Roar & Pour Wine Fest, April 29, 2017, with the proceeds going to the Friends of the Topeka Zoo whose mission is to enrich the community through wildlife conservation and education.
As always, we will have snacks, soda, Kansas craft beer and wine. Or try one of several varieties of iced or hot tea or coffee from the brew station.
We are located at the corner of 6th & Jackson downtown, above Topeka Blueprint.
We hope to see you here!
---
First Friday Art Walk – March 3rd from 5pm to 8pm Brush up on your Topeka Zoo facts for a chance to win general admission tickets to the Zoo or Giraffe and Lorikeet feeding certificates. Put your knowledge to the test and see how much you know about your local Topeka Zoo.
---
Staci Dawn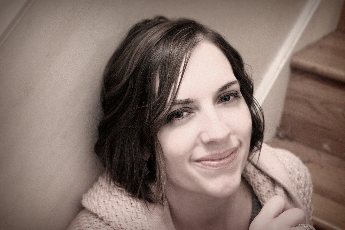 Staci Dawn sees art as something that transcends painting on canvas or pointing a camera. While her art may be about herself, being an artist is about so much more.
She started her art career in 2010 at the kitchen table, and had no expectations beyond that. Eventually, she gained the confidence to approach the Topeka art community, where Staci was welcomed with open arms. Soon expanded her reach into NOTO and took a leap of faith with the Aaron Douglas Art Fair. Today, Staci is the proud co-owner of Haven Arts in NOTO and just celebrated her third year as Chair for the Aaron Douglas Art Fair.
She has had, over the course of 80+ shows, the opportunity to display her work nationally and internationally. Through those experiences there has always been one constant need; to advocate and bridge the gap between art and the community.
When Staci was offered the opportunity to partner with NexLynx and the Topeka Zoo, it was a huge compliment – and an even bigger challenge! She loves opportunities to give back to her community through art and equally appreciates interactive and collaborative projects. She finds the challenge pushes her creativity to a new level.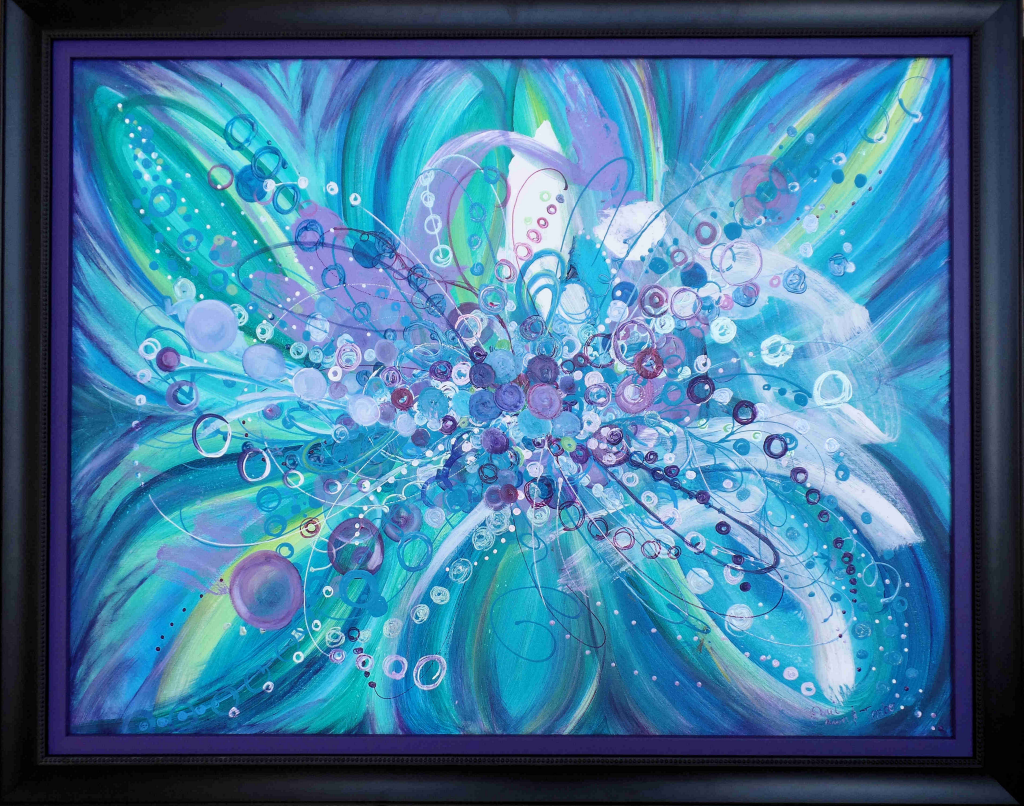 This particular project presented a hill she had yet to climb, as Staci lacked the ability to communicate with the other artist – an African Elephant named Tembo. Staci really wanted to feel connected to Tembo and wanted this piece to be expressive and represent both Tembo and herself. She dedicated time studying Tembo and learning what she could about her personality, in the hopes she could capture it on canvas.
Thirteen cumulative hours were spent creating "Tembo's Color Explosion" in three different stages. After completing the background, she scheduled time to sit with Tembo while she added her own splashes of color. The larger brush strokes of white, purple, and grey that you see throughout the painting is Tembo's work. The finishing touches were the last and longest stage of the painting, and took more than 8 hours to complete.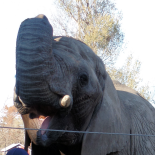 Staci choose to partner with Tembo who is a 46 year old African Elephant who has lived at the Topeka Zoo with her best friend, Sunda, 56, since 1976. At 46, elephants are considered senior citizens, but despite her age, she still loves to play and enjoys tossing around large logs and truck tires. Tembo is a skilled painter both with a brush and with her trunk. She also enjoys using other kinds of "paint" such as water, dirt, and sand to cover herself and will roll around in mud to give herself a mud bath. In the wild, this behavior protects an elephant's skin from the sun and parasites.
---
Bob Hayes
Bob Hayes, a Kansas native, prefers acrylic abstract painting, mixed media textures and materials to create his abstract paintings as well as ceramics and watercolor. Bob selects subjects and abstract inspirations from his everyday surroundings. Those subjects may be naturally occurring, such as landscapes or resulting from the actions of people.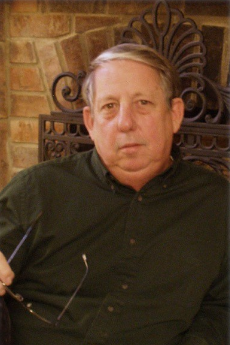 An avid photographer whose photographs are often representative of Kansas scenes which he takes only a small visual tidbit, those are the little tidbits of time are what he wishes to share with others. Bob's abstract paintings develop over a period of days, weeks and sometimes several months and are based on composition, design, color and frequently from his Kansas experiences.
Personal participation in the creative process is the important ingredient for Bob's photographs, acrylic abstract paintings and other media that he enjoys. That keeps him coming back to the camera, editing and printing of his photographs, acrylic paintings on canvas, watercolor painting and other art related activities.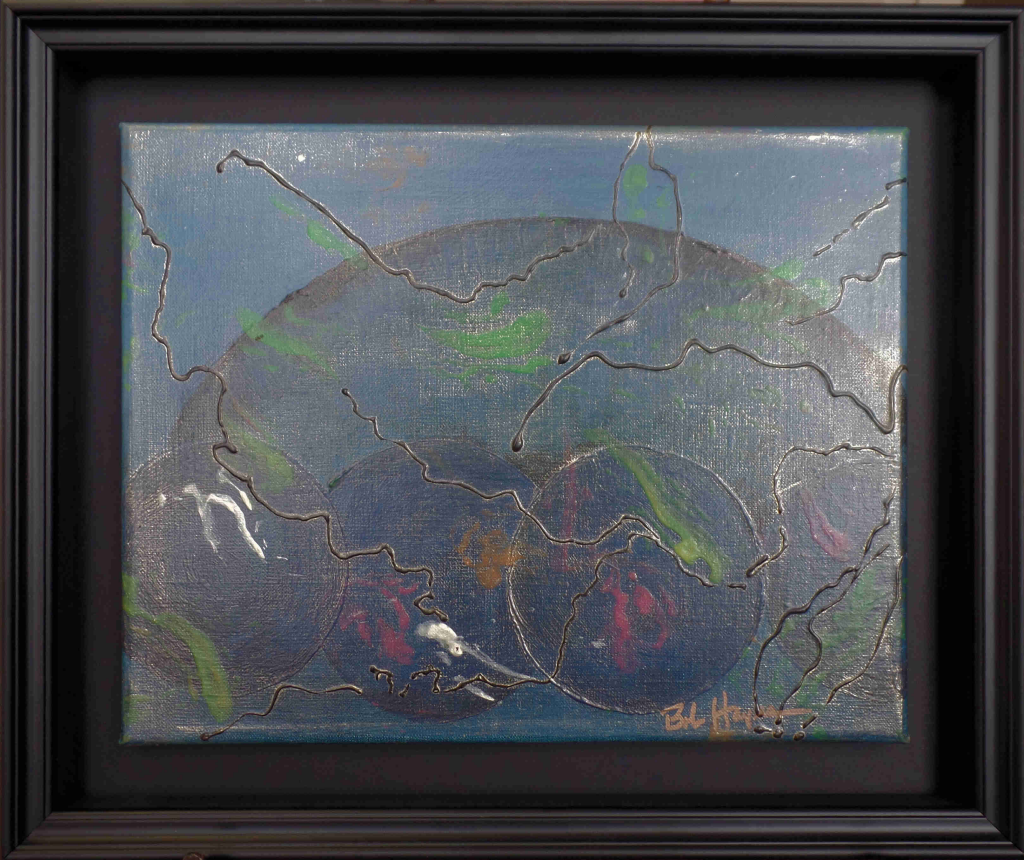 Receiving the NexLynx invitation to be one of the selected artists for creating a painting with a zoo animal has been a highlight art experience which brought Bob closer to the Topeka Zoo. His paired zoo partner artists were a group of talented, but somewhat lethargic, Hissing Cockroaches. Creating the painting, involved handling individual Cockroaches, placing paint on their feet and bellies then trying to encourage them to run across his abstract painting. Being allowed to touch and handle the Cockroaches and to overcome Bob's initial misgivings about these creepy appearing bugs.  While other zoo animal painting partners may be more exotic and dangerous, Bob's group of Hissing Cockroaches were easy to handle, adding their wisps and streaks of paint to his canvas. After our painting, we gave them a bath to remove the paint from their cockroach bodies. It was a total art and zoo experience all now revealed on canvas. Looking forward to see how our artistic Hissing Cockroach Associate Artists adventure will be accepted at the Roar & Pour Wine Fest on April 29, 2017.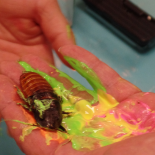 Bob selected the Madagascar Hissing Cockroach which is one of around 20 known species of large hissing roach native to Madagascar and is among the largest species of roaches, but unlike other roaches, they are wingless. Their hissing sound is made when they forcefully expel air through holes on their body called spiracles. Madagascar Hissing Cockroaches make frequent cameos on the big screen and have been in such films as Bug (1975), Starship Troopers (1997), and Men in Black (1997).
---
Alexander Lancaster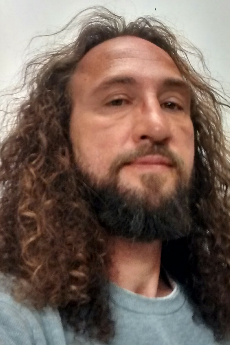 NOTO Mixed Media Artist, Alexander Lancaster, recognized for his use of airbrush, bright colors and realistic details achieved with a freehand airbrush technique brings his art to life.
An Artist devoted to volunteering for community art projects, Alexander created and organized events such as Topeka's Two Block Chalk Walk, Topeka's Graffiti Wall, Artstoberfest, Alleyfest, and the Guerilla Street Art Raid (sometimes wearing a Gorilla suit). Alexander has donated his time and artworks to raise money and awareness for important fundraisers benefiting the community in Topeka. His artwork has been donated to the following events: Jam4Dan, Topeka Blues Society, Jam for Justice, Concealed Revealed – YWCA Center for Safety and Empowerment, Topeka AIDS Project Gala Benefit, Kansas Equality Center, Kansas Children's Discovery Center and other fundraisers working for the betterment of our community.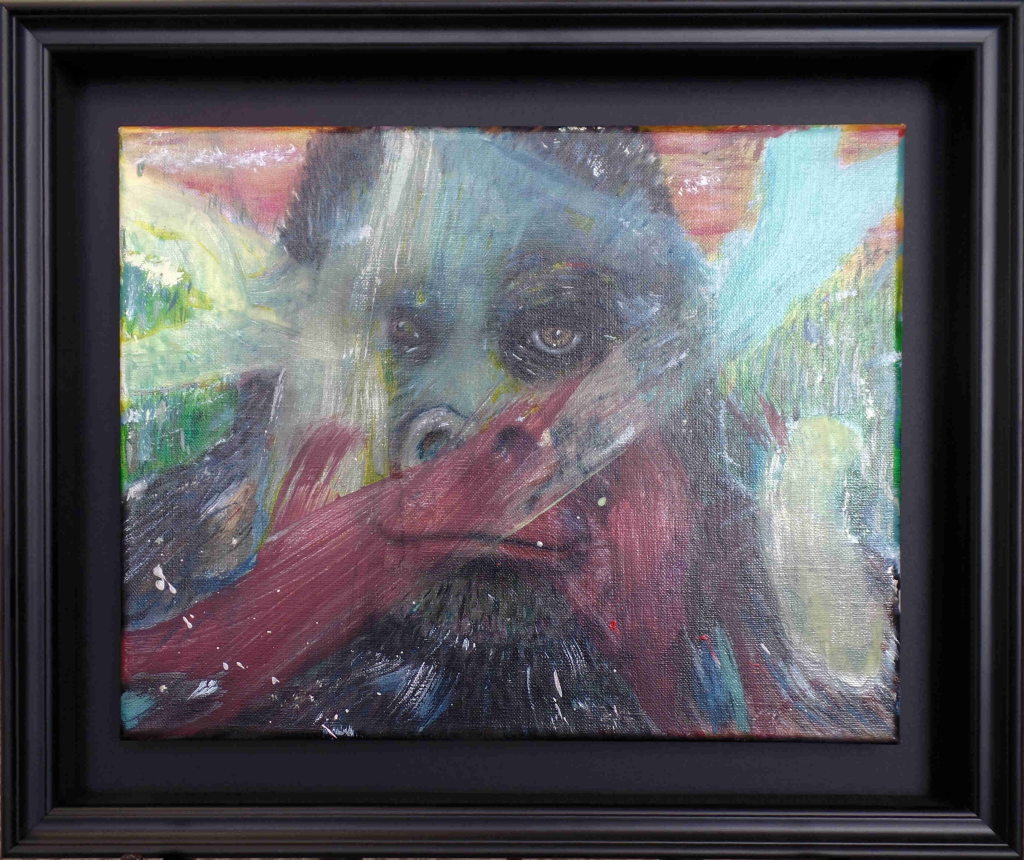 Alexander Lancaster is the core artist of the Two Wolves Artist Collective and Art Director for the Military Veterans Project. His efforts and artworks has been recognized with two People's Choice Awards, one from Aaron Douglas Art Fair and the other from Topeka's ArtsConnect.
He prepared his canvas by creating an image of a gorilla with watercolors for Tiffany to begin to add her abstract strokes of acrylic paints. The collaboration was soon completed by Alexander with some final touches of color to enhance the strokes of paint Tiffany left behind and without covering the marks she created. The title given to this painting is "Preserve and Enhance".
It is quite the honor to collaborate with Tiffany the Gorilla and create a piece of art, together, for a great cause. Art is a way to bring attention to subjects where attention may be needed. Alexander is grateful by the opportunity to use his art to help shine a spotlight on this subject and to help create additional funding for the care and study of these amazing creatures. He truly appreciates Lee Ryan and Sarah Hitchens at NexLynx for coordinating this art project and for asking him to be part of this fundraiser and opportunity to share his art.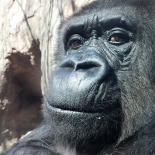 Alexander partnered with Tiffany who is a 48 year old Lowland Gorilla who loves to paint. Her favorite color to work with is aquamarine. She enjoys spending cold, rainy days indoors watching Mary Poppins. She was born at the Kansas City Zoo and hand-raised by humans. Hand-raising apes was a common practice when she was born, but today hand-raising is not done unless it is medically necessary. She came to Topeka in 1969, left briefly in 1983, and came back to stay in 1987. Lowland gorillas are critically endangered and threatened primarily by deforestation and poaching.
---
Jessie Logan
Art has always been part of Jessie Logan's life from painting murals & landscapes, to painting original designs on material and designing clothing. For 40 years, her artistic outlet was a career in make-up artistry and training. Like more traditional artwork, make-up artistry is all about highlighting, shading, color mixing and finding the right "look." After retiring as a National Sales Director with Mary Kay Cosmetics, Jessie picked up her oil brushes again after realizing how difficult it was to find the right piece of artwork, in the right color to display in her home for each season and holiday. Eventually, this search turned a beloved hobby into a new career.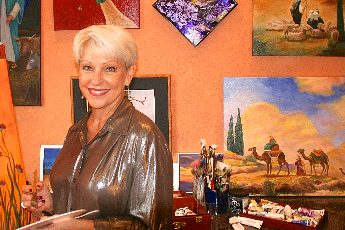 Jessie experiments with different media, such as oils, watercolors, acrylics, pastels, resins, and textures. She loves attracting people to her artwork by using an array of styles and textures. Jessie's current favorite leans to the impressionist style of painting with quick drying oils often with acrylic base.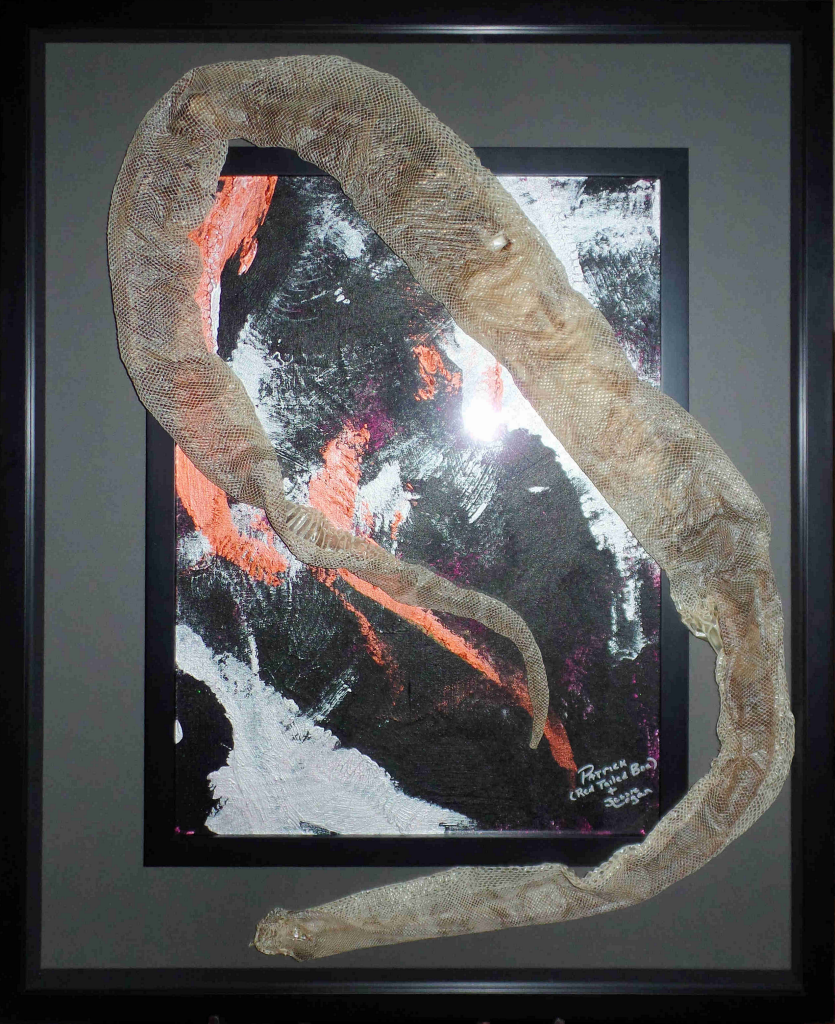 Working with the Topeka Zoo, safe, non-toxic acrylic paints were used. She painted the base coat and her subject, Patrick the Red-tailed Boa assisted by adding color with his own artistic crawl, making this a perfect and very unique contemporary painting. The work was finished with a resin glaze. The first-time Patrick's "sitting" was scheduled, the zoo keepers found him shedding his skin. Jessie decided Patrick's wardrobe change should be included as an authentic feature of the artwork, matting and framing package. As you will see, Frame Warehouse made my vision a reality.
You will own a truly original work of art when you acquire this unique painting created through the collaboration of Jessie Logan, Patrick the Red-tailed Boa, and Frame Warehouse!
Jessie feels this was truly a wonderful opportunity to participate with NexLynx and the Topeka Zoo. She admired the way the zoo keepers worked with Patrick and even got a gentle hug from Patrick when their work was completed.  "Feel the fear and do it anyway! Right?"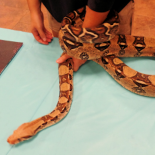 Jessie partnered with Patrick a 6 foot long male Red-Tailed Boa. Red-Tailed Boas are a non-venomous constrictor native to South America; it is possible for females to grow to 14 feet long, making this the seventh largest snake in the world. Despite their size, they are not a threat to humans and are found in zoos around the world, as well as in the pet trade. Like other snakes in the boa family, the red tailed boa gives birth to live young instead of laying eggs. In captivity, red-tailed boas can live to be 20 to 40 years old.
---
Nicole Maddox
During the last 8 years, Nicole Maddox, native to Topeka, has shown her art throughout downtown and NOTO. Nicole likes creating art that is abstract that not only reflects her own thinking, feelings and beliefs, but she hopes it can also help others find reflections of themselves within it as well.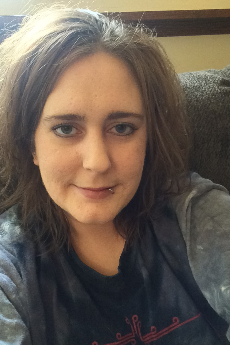 Typically using acrylics and sometimes watercolors, she has begun experimenting with mixed media. She may start out with some kind of concept in mind, but finds the painting ends up taking its own course.  There is no concrete process Nicole goes through when she paints. Sometimes using brushes, palette knives, and other times stencils or other found items to create textures and patterns. So, usually what she had in mind in the beginning isn't quite what the painting turns out to be.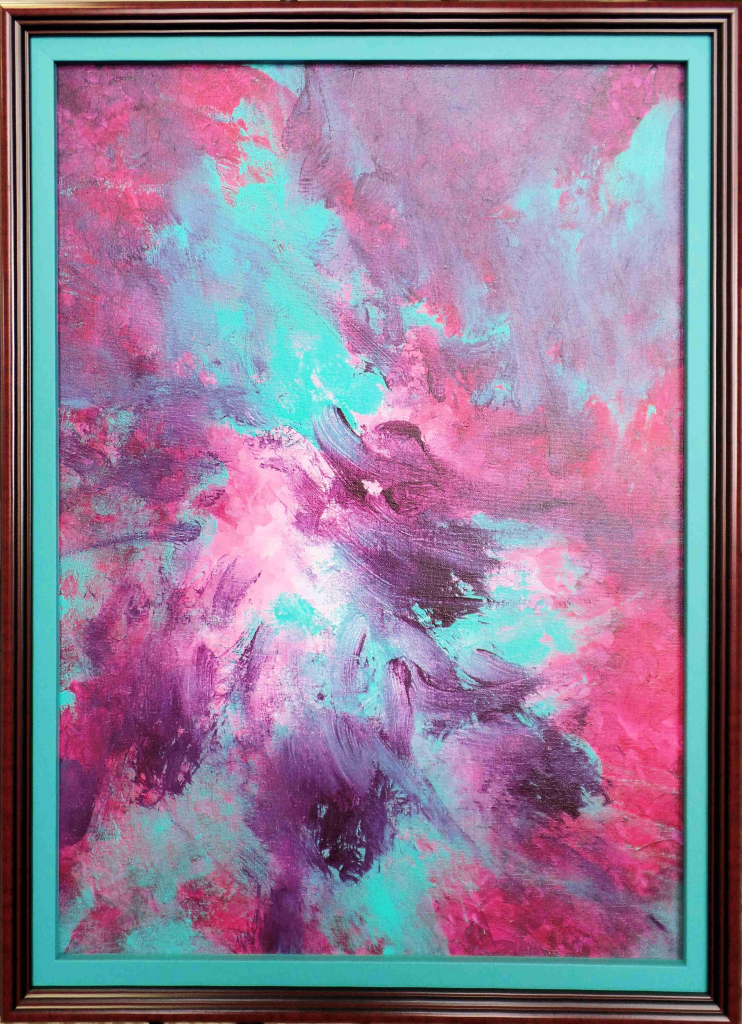 The experience of participating in this project was extremely exciting as well as humbling. Nicole was very surprised at the magnitude and depth of Rojo the tiger, and the true majesties of him. The experience of getting to coordinate with Rojo as he moved the canvas while he painted on it, has been one of the best experiences in Nicole's life. The presence was truly something she had never felt before. Nicole deeply cares about animals and is grateful to participate in this project helping the zoo and achieve their mission.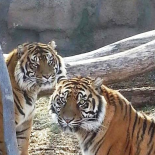 Nicole painted with Rojo a male Sumatran Tiger and father of three cubs born at the Topeka Zoo in 2014. Rojo, 10, was born at the San Diego Safari Park in California. He weighs 250 lbs, which is a healthy weight for Sumatran tigers, the smallest tiger subspecies. It is estimated that there are only 500 Sumatran tigers left in the wild. The closely related Bali and Javan tigers are both extinct, making the Sumatran Tiger the last surviving tiger from the Indonesian islands. One of their biggest threats in the wild is conversion of their habitat into palm oil plantations.